Marion Wachtel - Biography

Born in Milwaukee, Wisconsin in 1870, Marion Wachtel became a famous painter of Western landscapes and also did some pueblo scenes. She was one of the few early California landscape painters who included figures in her work and was versatile in both oil and watercolor.

Her family was highly art oriented; her mother was an artist, and her great grandfather was a member of the Royal Academy in London. Wachtel attended the Art Institute of Chicago and then went to New York where she was a student of William Merritt Chase. She taught at the Art Institute and in the Chicago public schools and then established a reputation in Milwaukee for child portraits and figure studies. But one of her landscapes caught the eye of a Santa Fe Railroad Vice- President, and he offered her free passage to California in exchange for paintings for their ticket offices.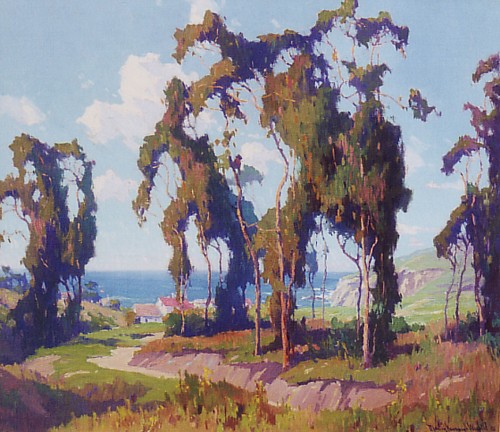 Coastal Eucalyptus
SOLD


She first went to San Francisco and studied with William Keith and then to Los Angeles, where at the suggestion of Keith, she studied with artist Elmer Wachtel, whom she married in 1904. At that time, she dropped the "u" from her surname and spelled it "Kavanagh." For 25 years, they painted together in California, Arizona, the High Sierras, the sea coast, and Mexico where Elmer died. She also did some pueblo scenes in New Mexico.

After her husband's death, she quit painting for several years and then began again in the early 1930s but also used oil paints whereas before she had painted exclusively in watercolor.
She was popular on both coasts because she exhibited in New York as well as California. Her painting style before 1920 was much tighter and meticulous than later. She was a member of the California Watercolor Society, the Academy of Western Painters, and the Pasadena Society of Painters.
She died at her home in Pasadena on May 22, 1954. Although her birthdate is generally listed as 1876, her father's will, probated in April of 1874, lists his daughter, Marion, as being three years old.

Source:
Phil Kovinick and Marian Yoshiki-Kovinick, An Encyclopedia of Women Artists of the American West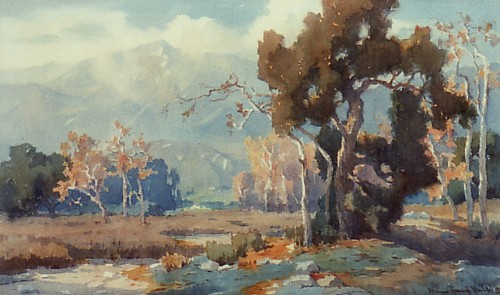 "Indian Summer, Santa Anita"
SOLD
MEMBERSHIPS
Academy of Western Painters (LA); Pasadena Society of Painters; Friday Morning Club (LA).

EXHIBITIONS
Del Monte Art Gallery, 1907-09; Anderson Gallery (Chicago), 1907; Steckel Gallery (LA), 1908, 1912, 1915; Daniell Gallery (LA), 1911; PAFA, 1913; LA Museum of History, Science & Art, 1915, 1917 (solos); Milwaukee Art Inst., 1917 (solo); Calif. WC Society, 1921-27; Leonard's (LA), 1923; Biltmore Gallery (LA), 1925; Kanst Gallery (LA), 1928; Stanford University, 1935 (solo); USC, 1936 (solo).

COLLECTIONS
Los Angeles County Museum; California State Bldg (LA); Woman's Club (Hollywood); Friday Morning Club (LA); Cedar Rapids Museum; Fremont High School (LA); Gardena (CA) High School; Irvine (CA) Museum; Orange County (CA) Museum; Santa Fe Railway; LA County Museum of Natural History.
Call (800) 833-9185 or email to info@kargesfineart for further information
Los Angeles Gallery
Bergamot
2525 Michigan Ave., T-3
Santa Monica, CA 90404
800.884.4022 toll free
310.276.8551 ph
310.276.7980 fax
Email Karges LA
Whitney Ganz: Director
Carmel Gallery
6th. & Dolores
Carmel, CA 93921
800.833.9185 toll free
831.625.4266 ph
310.625.9649 fax
Email Karges Carmel
Patrick Kraft: Director
Purchasing and Mail
800.833.9185
P.O. Box D-1
Carmel, CA 93921
Email Purchasing